"Naples of ancient times"

Traces of the last city. Containing a hundred and eighteen colour plates.
---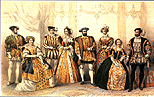 "Party costumes"

A faithful reprint of the 1854 edition. Limited only 1900 copies printed, each numbered by hand. Seven personal copies.
---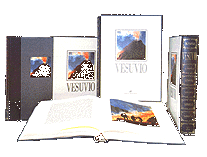 "Vesuvius"

THE MOST FAMOUS VOLCANO IN THE WORLD. A GREAT EVENT IN THE PUBLISHING TRADE, PRINTED IN A STRICTLY LIMITED NUMBER OF COPIES.
---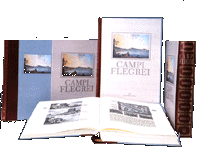 "Campi Flegrei"

THE BIRTH OF EUROPEAN CIVILIZATION. AN IMPORTANT EVENT IN THE EDITORIAL TRADE, PRINTED IN A LIMITED NUMBER OF COPIES.
---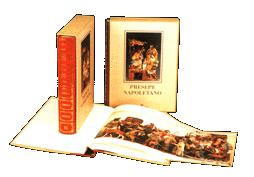 "The neapolitan crib"

A VOLUME DESTINED TO BECOME A CLASSIC IN ITALIAN PUBLISHING
---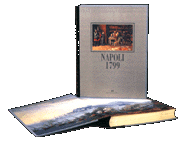 "Naples 1799"

A RESTRICTED NUMBER OF COPIES PRINTED, EACH NUMBERED BY HAND. XXX COPIES REMAIN PROPERTY OF THE PUBLISHER.
---

"Itinera Sacra"

A LIMITED NUMBER OF 2999 COPIES PRINTED EACH NUMBERED BY HAND
---
COLLECTION: "THE NEAPOLITAN CRIB IN THE WORLD"
THE BORDONI COLLECTION – BOLOGNA
WITH A HISTORICAL NARRATIVE REGARDING CRIBS BY ANTONIO PERRONE 160 PAGES, 109 COLOUR ILLUSTRATIONS PUBLISHED IN DECEMBER1998

EURO 77,00
THE ROBERTO CATELLO
COLLECTION – NAPLES WITH AN INTRODUCTION BY MARINO NIOLA 160 PAGES, 120 COLOUR ILLUSTRATIONS

EURO

77,00
THE SCARLATO COLLECTION – SALERNO
WITH AN INTRODUCTION BY GIUSEPPE GALASSO 96 PAGES, 69 COLOUR ILLUSTRATIONS

EURO 61,00